Each email provider has its own algorithm and handle your email differently. So, ensure to check your open rate daily, the higher the open rate the more successful you are at delivering your emails.
If you are finding that a particular email provider has a low open rate, remove them from your send until you build up the open rate separately from the higher rate open email providers.
Each day you will need to plan to send to the most engaged customers on each domain. Check how well you are doing by checking your open and click rates before making a decision on how to update you daily and hourly limits.
To do this, click on Campaigns to display the Campaign overview page.

Next click on the Domain Reporting arrow on the far right

This will drop down to show you the delivery rate, open rate, click rate and bounce rate of your campaigns. You can then review the campaign further by clicking on report.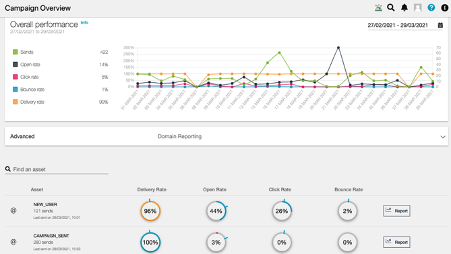 This then shows you the success of the campaign. The numbers beneath the circles can be clicked on for you to drill down further.
As you can see from below of there are 3 emails which bounced. By clicking on the number, it will show you which customer's these are.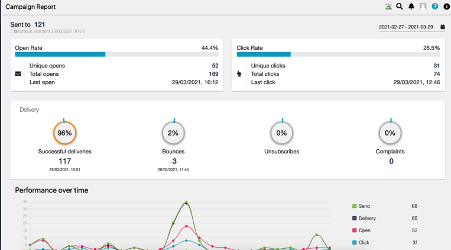 And if you scroll further down on this page it will show you the Link Report which states how many times the email was clicked on.