What is it?
Our drag and drop builder empowers you to create beautiful emails, landing pages, and popups fast and easily. Use it for marketing, newsletters, educational materials, and anywhere else you need to create content with style!
The builder's simple interface includes a wide range of robust design control features. This "no-code" architecture allows non-technical users to complete the entire content creation process.
We've also designed this solution with responsiveness in mind. To this end, we release regular updates and improvements to optimise cross-platform rendering.
Structure vs. Content
The builder manages structure and content separately to ensure design flexibility. Among other things, this allows different formatting for each row within a design. This architecture improves the responsiveness of design rendering on mobile devices.
Design Editing Stage and Sidebar
The builder consists of two main areas: the design stage that is usually on the left, and the sidebar panel that is usually on the right. This configuration may vary, depending upon how the builder is implemented.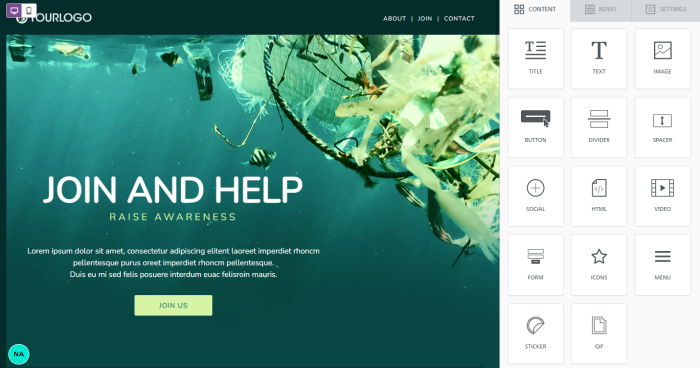 To use the builder, drag and drop elements from the sidebar to the stage. Once placed, select the content and edit its properties in the sidebar. These steps apply to row elements as well as individual content blocks.
The builder also makes it easy to work with images. You can drag and drop image files from your local system onto an image content block. You can also upload them via our File Manager or use external image URLs.
The sidebar contains three sections:
Content
This section contains the specific content elements you can use in your design. This is also where you configure their individual settings.
Rows
This section contains the structural elements you can use to organise your content. You can select from a variety of pre-defined row configurations, or create your own. You can also access rows you have saved from previous designs from here.
Settings
This section contains "global" settings that affect the entire message.