On the customer tab, when you click on a customer and expand Marketing Preferences, there are subscriptions categories and Channels categories
Subscriptions are set of interests which customers might be interested in (i.e. For a travel company there might be a category for beach holidays)
To add a new subscription category, click on Email Assets > click on edit/view email > click on Options (Top right of the screen) > navigate to 'Subscription Category' and type in the category name > click Add. The new subscription category will become available in customers Marketing Preferences for selection.
Please Note: Once added, a category cannot be deleted.
Subscriptions Categories are opted in by default (i.e. all customers are in new categories)
Channels are methods in which you can use to communicate with customers (i.e. Customers will only have contents received in their email when email options is ticked in channel)
Channels categories are opted out by default (i.e. customer must subscribe to receive emails)
There is an option to Unsubscribe from all, if the customer is marked as unsubscribe from all, they will not be part of any subscription or channel categories.
Email Assets
Given that an email draft has been created, when you navigate to email assets and click on edit > Options, there is a subscription category field where you can select the category you plan to send the email to (i.e. if Beach Category is selected, emails will only be sent to customers subscribed to this category)
Email can be set up as Transactional, when transactional is active this will override customers marketing preferences as these are NOT to be used as marketing emails but are service/receipt related.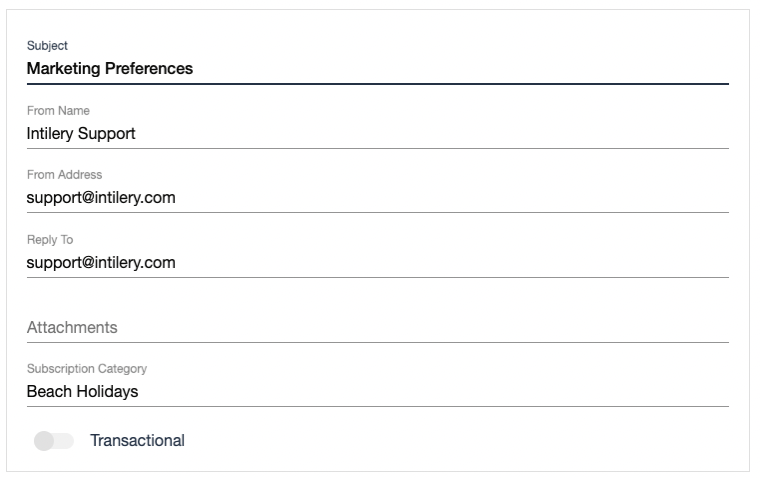 Add a new subscription category on the Email/SMS Options Page
Please Note: A category cannot be deleted.